SOUTH BEACH NO SLEEP WEEKEND! 3 DAYS & 5 PARTIES! LIVE from South Beach, Mi…
Coming Soon
The event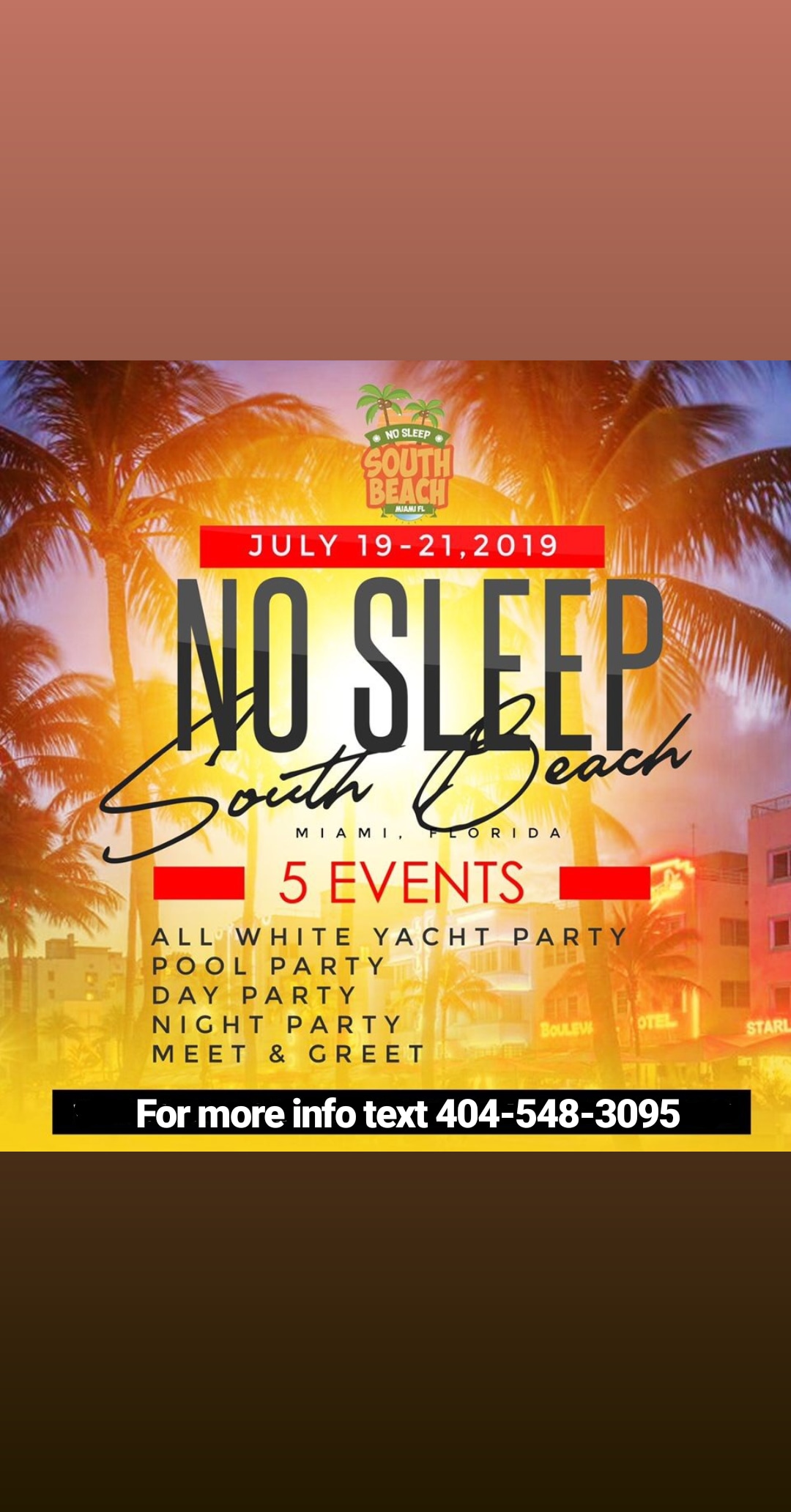 7th Annual No Sleep South Beach Weekend is set to take place on July 19th – 21st, 2019, giving you the ultimate escape from reality. No Sleep South Beach takes the late-night party and turns it on its head. Then it gives it a Red Bull and invites it aboard a yacht for an all-white cruise that ends, you guessed it, with another club banger. Friday to Sunday, the party never stops as young professionals rub elbows, share drinks, and let their hair down. Don't be surprised if all-star athletes and celebs stop to join in the non-stop fun!! And come Sunday, things go out with a bang thanks to a grand finale Celebrity Hosted Pool Party at the Surfcomber Hotel. With 5 events spread out over 3 Days, we make sure all of our participants have the time of their lives…
There were also be Networking Events, Vendors, Contest and much more!! This is truly a NO SLEEP WEEKEND you are sure to cultivate new relationships while having the time of your life. This weekend has sold out 6 Years in a Row!! Last year we had over 3,000 Attendees from all over the United States along with Various Celebrity Entertainers, NBA & NFL Players in attendance.
Do you feel the warm sun? Sand between your toes? Smell the ocean? Now open your eyes. Still sitting behind that desk? I know you wish this was your reality. Guess what? It can and it will. Time to plan your ultimate weekend getaway. South Beach is the definition of fun, nightlife, shopping, culture and definitely the city of beautiful people. NSSB has picked the perfect place to cultivate new connections with like-minded people while partying and letting your hair down.
Exquisite cultural dining, top-notch shopping, beautiful people from around the globe, the sun and the beach, all calling you to Miami. So stop daydreaming about it and be about it. Grab your bikini, your friends, and your stamina because this is going to be an epic weekend. Party passes and rooms are available to book now. Don't wait! Get your passes today and we will see you in South Beach! Welcome to Miami!
5 Events 1 Price Low Price!!
5 PARTY PACK FOR $200 #TagYourFriends
The 7️⃣th Annual NO SLEEP SOUTH BEACH 2019
.
JULY 19TH – 21ST .
.
6️⃣ EVENTS 3️⃣ DAYS!
South Beach Miami, FLA
---
Buy tickets on keyboard_arrow_down
---